Fusion
How to replace oracle fusion logo with custom logo?
Learn Fusion Sandbox and personalization
In this article we will see how can we change the default fusion logo and replace the same with our custom client logo. Not only this we will also see how can you quickly change the look and feel of your fusion instance. We will do all of these using Sandbox so here you also have the great opportunity to learn about oracle fusion Sandbox.
Before we proceed please note that screenshots and steps mentioned here are relevant to release 11.
[box type="success" align="" class="" width=""]
Note
: If you are looking for any kind of training on Fusion HCM, please
contact us
today. We are offering online training and also offline training in Hyderabad for discounted price.[/box]
How to change the default fusion logo?
Navigation : Home Page : Tools » Developers Connect » Appearance
To change the logo you will need to follow these simple steps. First login to your fusion instance and navigate to home page. after that tools, developers connect and then click on appearance icon as shown in the image below.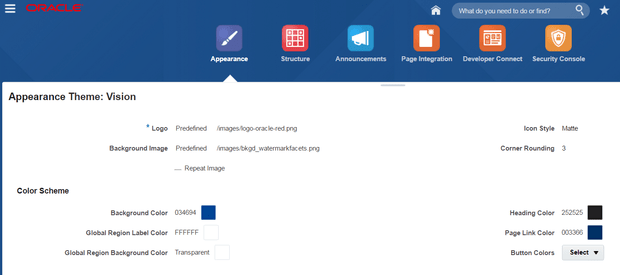 Once you are on this page click on the edit icon that appears on the right hand corner on the same page. As soon as you click on that it will prompt you a message "You must be in a sandbox session to perform customizations." Click on Activate Sandbox

Hope you are aware what is Sandbox, if not dont worry, here is the brief description about it.
What is Sandbox in oracle fusion?
Sandbox is one of the handy tool or featured delivered by oracle, which helps to manage any customization easily. You can think of it as creating your own copy of fusion instance and doing changes/customization on the copied instance rather than on live instance directly. Using sandbox you can test the customization without affecting anybody else on the instance. When you are satisfied with the customization you can also release the sandbox to user for testing and their confirmation. Client can see the changes by accessing your sandbox. When they are happy with the changes you can publish the sandbox to running instance and changes will be applicable to all. If you do not like the sandbox you can simply delete it or leave it die.
We also have some interview question of Sandbox?
Question : What is the reason you are not able to delete a Sandbox?
Answer : Is it possible that sandbox that is being deleted is still active. An active sandbox cannot be delete. First we need to come out of sandbox and then using manage sandbox we can delete the same.
Question : What role is required to create/access Sandbox?
Answer : Application Implementation Admin Role is required to create Sandbox.  The following duty roles can also be granted to functional user.
1.Application Sandbox Publish Duty – Allows access to the MDS Sandbox publication action.
2.Applications Sandbox Metadata Import Duty – Allows access to importing of sandbox metadata.
Question : What is the Maximum number of Sandboxes i can create?
Answer : There is no limit on the number of sandbox you can create. However, it is the best practice to delete the sandbox if its no longer required to avoid any confusion and possible mistakes of publishing wrong sandbox.
Question : Is it possible to reuse published sandbox?
Answer : As on today its not possible to reuse the published sandbox but you can check the oracle note 2167900.1 for any recent change.
Question : Can Application Users Receive a Notification when a Sandbox is Published?
Answer : Unfortunately, at this moment the functionality you are asking about is not supported.
So there is no automatic notification or even the possibility to create a notification when a sandbox gets published, regardless of the modifications/customization in the sandbox. Check oracle note 2167900.1
Okay we have got enough knowledge on fusion sandbox now its time to come back on our original topic
Once you click on Activate Sandbox it will bring list of all sandboxes available on your instance, either you can use the existing sandbox or create a new one. In this article we will show how can you create a new sandbox. To create a new sandbox, click on New (+) icon.

Once you do so, you will need to give the sandbox name and description. after that click on "Save and close"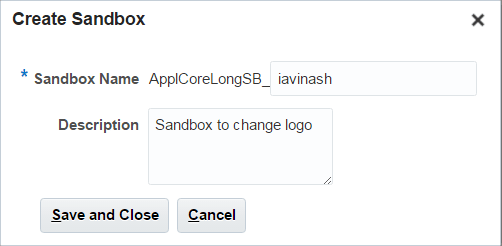 You will get confirmation message when sandbox will be created. Click "OK". After that the page will refresh automatically and you will able to see your sandbox name. To activate the sandbox select you sandbox name (do not click on the name, just select it by clicking on description). Once the name is selected click on "Set as Active". You will get following warning message. Just click on "Yes"

Upon clicking on "Yes" you will be redirected to home page and you will see a yellow bar on top, which tells your sandbox is currently active. Any changes you do while sandbox is active will not be reflected on live instance and no body will notice it also.

Now to change the logo once again navigate to appearance
Navigation : Home Page : Tools » Developers Connect » Appearance
Now you should be ready with your client logo or any logo you want to change. If this is just for testing, you can use the below logo. Just right click on the image and save it on your desktop.

Once your logo is ready first change the logo type to "File" and then upload the logo from your desktop/system.

On this screen you can also change the look and feel of the instance by changing various colors under color scheme. However, in this article we are not going to change any color. Once you are satisfied click on "Apply" to see your changes. Please note at this point of time changes will only be applied inside your sandbox. It will not be reflected on live instance.
At this point of time changes are applied inside your sandbox. Now you can test various other things to check there are no negative impact due to this change (logo). Since we are only changing logo we need not to worry much but in real scenarios if you have done several changes you would like to take your time before publishing the sandbox.
How to publish sandbox? Now if you want to bullish the sandbox and make the new logo available to everyone. navigate to "Manage Sandboxes".
Navigation : Click on your user name (Right Hand corner) » Click on Manage Sandboxes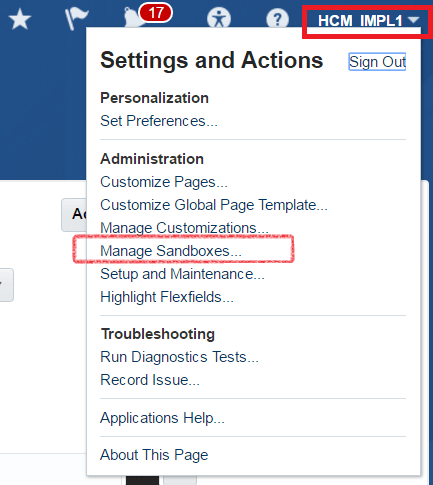 When you are on Manage Sandboxes page search your original sand box name and select that (do not click on name, only select it) and then click on "Publish". This will publish the changes (logo) to real instance.
Now you can see the new logo.
How to come out of Sandbox?
Imagine a situation when you are inside a sandbox but want to come out of that. In such scenario just click on the sandbox name and you will get the option to exit sandbox.

How to delete a sandbox?
Navigation : Click on your user name (Right Hand corner) » Click on Manage Sandboxes
To delete a sandbox navigate on "Manage Sandbox" page after that search and select the sandbox you want to delete. Now click on Action tab and you will see the option to delete a sandbox.