Correct Legal Employer of an Employee
Steps to correct legal employer
Cancel the work relationship
Create New Work Relationship
Change Legal Employer of a pending worker
How to correct legal employer for bulk employees
Correct Legal Employer of an Employee
In this short article we will see some simple steps to correct the legal employer/entity of a worker. Some time human error do take place and we enter incorrect data unknowingly. Some times those errors can be corrected easily, some time not. Unfortunately Legal Employer is one of those fields, which cannot be corrected easily. Please read further to see the how to correct Legal Employer of a worker in oracle fusion.
If you are looking for any kind of training on Fusion HCM, please contact us today. We are offering online training and also offline training in Hyderabad for discounted price. iavinash.com
Steps to correct legal employer
As we said there is no direct way to correct the legal employer unlike business unit, location and department so you will need to first cancel the existing work relation of that worker. An enhancement request (17596602) was raised with oracle to change/edit the Legal Employer directly but the request was turned down with following note.
Given the current architecture of the system, its integration with payroll 
and the large number of existing customers; it is simply not possible to make 
this huge change which will impact various products like payroll and 
localizations.
 
Customers need to use the existing Global Transfer functionality to make 
legal employer changes for their workers.
 
In future releases we will try to simplify the data management when workers 
undergo Global Transfer. But the fundamental approach of Global Transfer 
cannot be changed.
 
Hence this ER is being rejected.
If you are new to fusion and want to understand how employment model work in fusion, please read this article » Employment Models in Oracle Fusion HCM Explained
Cancel the work relationship
Navigation : My Workforce » Person Management » Search for person » Manage Work Relationship
To cancel the work relationship login as an HR specialist or equivalent role and navigate to manage work relationship page. On that page click on Action drop-down and select "Cancel Work Relationship" as shown in the image below. After that dont forget to click on "Submit" button.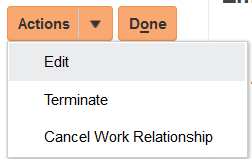 Note : You must be wondering what will happen if I dont cancel the work relationship and instead directly create a new work relationship. So the answer is if you search the record in application system will fetch two records and you will still see employee record with in correct legal employer.
Create New Work Relationship
Navigation : My Workforce » New Person » Hire an Employee
Now you will need to create a new work relationship with correct Legal Employer. To do so, navigate on new hire employee screen, and enter the correct legal employer, hire date and First Name and Last Name (Same personal information) again. Now without entering any more information click on "Next" button and system will pull the matching person record. Click on Select Person as shown in the image below.

Now you can verify the information and update any record if required.
By following this process you will create new work relationship with correct legal employer and if you search the person record system will show only one record.
How To Change The Legal Employer Of A Pending Worker
The process to change the legal employer of a pending worker is also same. There is no direct way to change the legal employer of a pending worker. First convert the pending worker to an employee and than cancel the work relationship in the same way explained above. After that hire him again with correct legal employer.
How to correct legal employer for bulk employees
Unfortunately as of now there is no option to change legal employer in bulk. You can change the business units in bulk using the mass update but legal employer is still not available for bulk update, however, there is an enhancement request raised with Oracle and we may see in future.
Additional reference
Fusion Global Human Resources: How To Correct Legal Employer For Employee (Doc ID 1633860.1)
Fusion Global HR: How To Correct Wrongly Entered Legal Employer Data For a Person (Doc ID 1595810.1)
Fusion Performance Management: Consequences For Performance Documents When Changing The Legal Employer (Doc ID 1981558.1)
As always I hope this article was of any help. And in case if you have any question to ask, please post them here » Oracle Fusion Forum