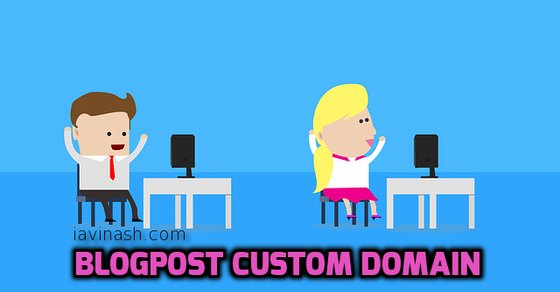 BlogPost custom domain
When you signup for blogger, you get a free domain something like example-name.blogpost.com but it doesn't represent the brand value and do justice to all hard work you put behind to write those classy articles. Given the option, which one you would like to take from below
Obviously, choice is simple. Anyway, I am not going to convenience you any more, as I believe if you have come this far, you have already makeup your mind to get custom domain for your blogpost.
Just read further to see how this is magically done in 10 minutes without sweating!!
Buy custom domain before you start
Obviously getting custom domain is not free, but its not costly either. There are several domain providers in the market and mostly they charge around $10 for a year. You can even buy a domain from google itself. In this tutorial we have used the screenshots from GoDaddy.com but you can but domain from any domain provider, steps are going to be similar.
Tip : If you want to buy any domain from godaddy or any other name provider, dont type their complete website address, just search their name like "Godaddy" in search bar and mostly you will see some promotion running (as shown in the image below), click on that link instead to get offers!! You can thank me later, now jump on the next heading to see how to give your blogpost a custom domain name

Steps to setup custom blogpost domain
Navigation : BlogPost » Settings » Basic » Click on "Set up a third-paty URL for your blog"
So here we go…
Login to your blogpost and navigate below, you will see Settings, click on that and then click on Basic, right hand side under publishing you see your free domain name. Below that you have one link, which reads "+Set up a third-party URL for your blog"

Add the domain name you purchased
Now you will need to add the custom domain name you have purchased. When you add the domain name you have purchased, please do not forget to add www. 

Once you add the domain name (with www) click on save and you will get error!! "We have not been able to verify your authority to this domain. Error9". But dont worry about the error that is expected.That error is in place to make sure you dont accidentally or intentionally enter someone else domain. You will have to authorize you own that domain.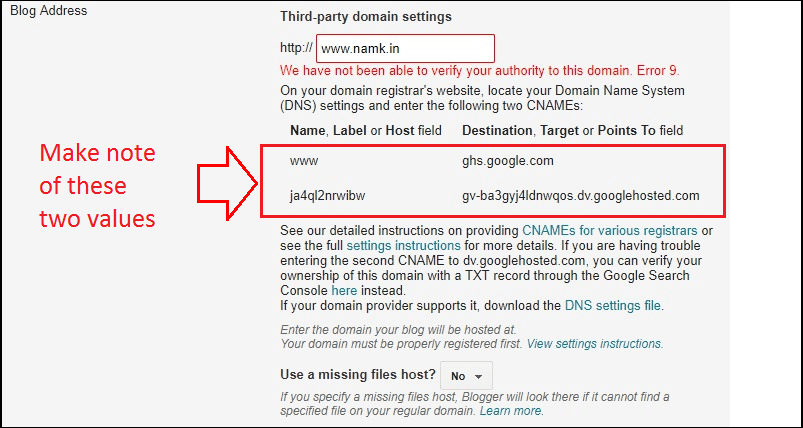 As shown in the image above, as soon as you click on save, you see two details highlighted in the box above. Make a note of them, you will need them later in this article. Please note these details vary account to account so dont copy the value you see in screen here. Copy the value you got for your blogpost account.
Change the CNAME and A record of your domain
These names (CNAME and A record) might sound greeky but they are not. We have covered you. Just follow the steps given below calmly and you will be done in two minutes.
We assume you have purchased domain from Godaddy, so login to your godaddy account and click on Domains. If you have multiple domain, you will see all of them here. Click on the custom domain name you want to use, as shown in the image below.

Once you click on the domain name, scroll below and you will see a section called Additional Settings, Somewhere there, you will see a link Manage DNS Click on that.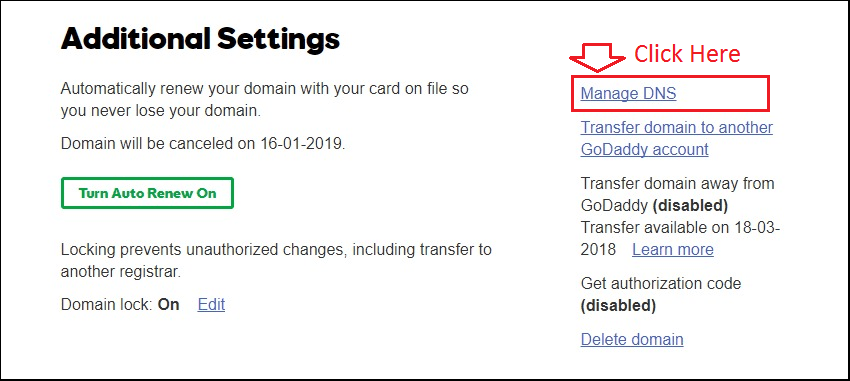 Once you click on Manage DNS this is how your screen will look like. Here you see two entries of CNAME and one entry for A. You will need to update their value one by one by clicking on the pencil icon given right hand side. But what value you have to change? Remember, we got some values in blogpost after giving our custom domain name and clicking on SAVE.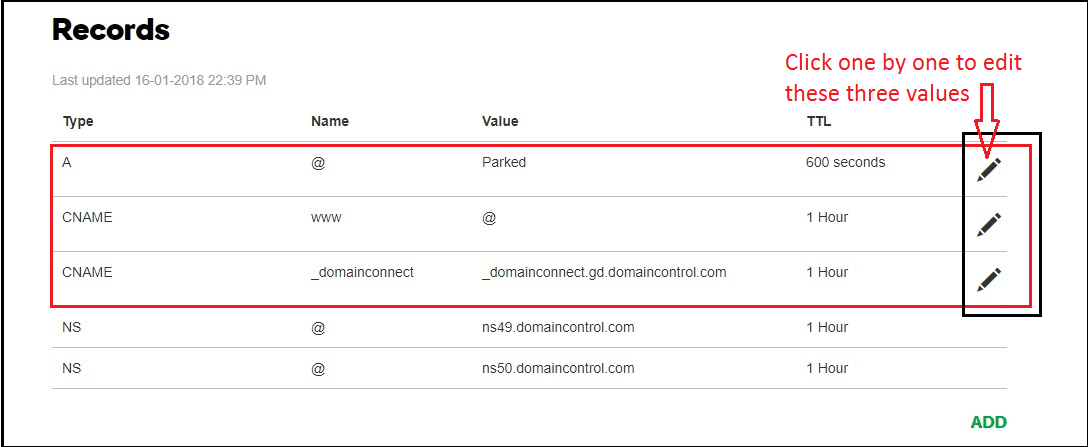 Click on pencil icon against the first CNAME with value www/@ and in teh filed Points to enter the value you got earlier from blogpost. Click Save

Now, click on the pencil icon against second CNAME and change the value in both the fields Host and Points to, which you got earlier from BlogPost. Click Save

Now finally click on the pencil icon against A record and enter the value in the column "Ponits to" 216.239.34.21 and click on Save. We are done.
If you face any difficulty, you can post your question in our forum, or contact me and I can setup this for just $5
If you face any difficulty, you can post your question in our forum, or contact me and I can setup this for just $5
Wait for some time to take this effect
I know you are excited to see this in action but just hold your breath little more. When you change the CNAME and A record of your domain internet takes some time to propagate it. It may take between 1 minute to 1 day. But usually it starts working within a minute.
Go back to your blogpost and click on Save again. If the propagation is done, you will see something like this without any error this time.

Now type your old free domain and address bar to see if its redirected to your custom domain. Just click on Ctrl + F5 to see if this has worked for you.
Hope you fount this Step by step guide to setup BlogPost custom domain from 2018 helpful. If you have any question or doubt do not hesitate to ask them in our forum.