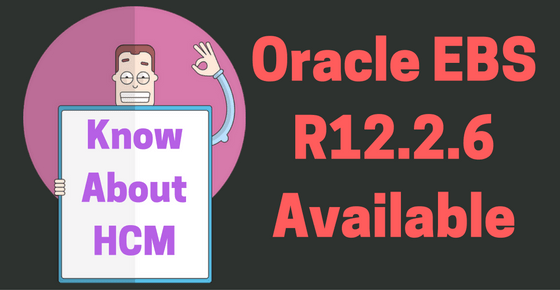 Oracle EBS R12.2.6 is available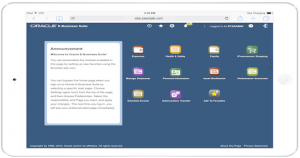 If you closely follow Oracle Open Worlds, you would be aware that Oracle briefed about a new release in series 12.2.x and as expected Cliff Godwin, Senior Vice President,  announced the availability of R12.2.6 for all their customers. As per the press release and even product highlights more emphasis are given on Modern User Experience and Mobility.  Another beauty of this new release 12.2.6 is that it is an online patch that means you do not need to bring your instance down to apply this patch on your existing 12.2.5 environment. This product version has been released almost after a year, previous available version was 12.2.5, which was released on October 2015
[box type="success" align="" class="" width=""]
Note
: If you are looking for any kind of training on Fusion HCM, please
contact us
today. We are offering online training and also offline training in Hyderabad for discounted price.[/box]
What's new in R12.2.6 for HCM folks?
If you are like me and more concerned to know what is changing in HCM, here are the few points I would like to share with you all. But please note currently I am not working on 12.2.x so I do not have practical exposure on these new functionalities. All I am sharing here is just theory and you can explore later.
Payroll : Enhanced Retropay Analysis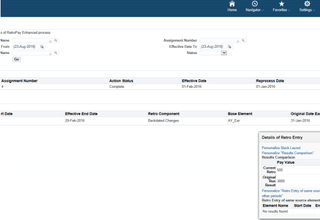 Oracle Payroll now provides a new user interface for users to query the assignment actions of the RetroPay Enhanced process and to review the corresponding retro entries created. This feature also provides users with a detailed drill-down of RetroPay element entry such as the original date earned and a comparison of the retro entry input values with the original run result. Users query the retro assignment actions effective between the specified dates for a given assignment or payroll.
Want to learn Payroll, here are few latest articles for you 
[feed url="https://iavinash.com/category/oracle/payroll/feed" number="2″]
Payroll : Bank Account Number Verification using Self Service HR
With this release employees can enter their bank account details using the Manage Payroll Payments self-service page. To ensure that the correct account number is entered and to avoid any discrepancies, the employees are required to enter their account number twice. When employees enter their account number the first time, the value will be masked and option to copy will be disabled. The application validates the entered information, and if the information is incorrect, prompts the user to re-enter the bank account number. Currently this feature is enabled for US and CA localization only.
This option can be enabled through new profile option "PAY: Enable Personal Bank Account Validation"
Payroll : Manage Assignment Sets using Web ADI
With this release, Oracle Payroll delivers an efficient way of managing the assignment set using Web ADI capabilities. The Web ADI interface enables users to download an existing assignment set, add new assignments, and upload the assignment set. A new function, Manage Assignment Set, is delivered with this release. To manage assignment sets, each user must add the new function to their responsibility.
Users can perform the following actions:
Create assignment sets using Web ADI.
Search, edit and manage assignment sets.
Convert dynamic assignment sets to static assignment sets.
Activate and inactivate assignment sets.
Delete assignment sets.
Note : For more information on these payroll changes, please see the oracle note Oracle Payroll Release Notes for Release 12.2.6 (Doc ID 2160367.1)
Time and Labor (OTL): Credit Overtime as Absence Accrual
With 12.2.6, administrators can credit overtime earned by employees to employees' accrual plans as Paid Time Off or Absence. This will be heedful if an organization do not want to pay their employees overtime for extra hours worked by employees. An option is provided to link overtime earning types (payroll elements) to absence elements used in Net Calculation Rules for accrual plans.
Want to learn Time & Labor (OTL), here are few suggested articles for you
[feed url="https://iavinash.com/category/oracle/oracle-time-and-labor/feed" number="2″]
Time & Labor (OTL): Calendar UI for Timecards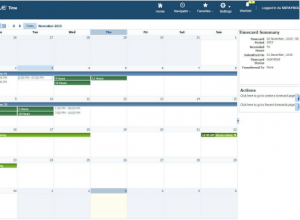 In R12.2.6 you can use a new page, based on ADF technology, to view all time entries recorded in time store with start and stop or hours displayed in flexible calendar styles. Available time entries are indicated with user configured color patterns. This enhancement also provides ability to navigate to existing create and view timecards pages.
You can make it possible using the profile option "OTL: Calendar View Colors"
Time & Labor (OTL): New profile options
Various new profile options have been introduces in the release R12.2.6, few of them are as follows
HXT: Limit Hour Deduction on Shift Premium : Use this profile option to restrict the hour deduction policy on shift premiums to be equal to hour deductions on regular hours. You must use this profile option only if overtime hours are not linked to shift premium via the Premium Eligibility policy.
OTL: Allow Additional Details on Time Entry Page : Use this profile option to configure PA Expenditure Item DFF additional details as layout attributes on the Time Entry page.
OTL: Consider Daylight Saving Time : Use this profile option to include Day Light Saving adjustments when calculating number of hours for required timezones.
OTL: Defer Data Collection for Time Entry Detail Report : Use this profile option to determine whether the application should skip processing of the Time Entry Detail report to enable optimum performance during timecard submission.
OTL: Enable Diagnostics on Time Entry Detail Report : Use this profile option determine whether the application should allow additional diagnostics to scan timecards and generate missing details when running Time Entry Detail Report.
OTL: Timecard Operating Unit Source : This profile option determines the source of the Operating Unit and Expenditure Organization to which the timecard gets retrieved.
To see what more is there in release R12.2.6 pertaing to OTL, please access oracle note Oracle Time and Labor Release Notes for Release 12.2.6 (Doc ID 2166029.1)
Want to upgrade to R12.2.6, wait a minute
If you are already on oracle platform and looking for an upgrade, please not that you need to be on 12.2 first. Below are the common question every customer will have.
Q: Is there a direct upgrade path from Release 11i to Release 12.2.6?
A: No. Release 11i customers must first upgrade to Release 12.2 before applying 12.2.6.
Q: Is there a direct upgrade path from EBS 12.0 to 12.2.6?
A: No. Release 12.0 customers must first upgrade to Release 12.2 before applying 12.2.6.
Q: Is there a direct upgrade path from EBS 12.2 to 12.2.6?
A: Yes. Release 12.2 customers can apply 12.2.6 directly to their environments. EBS 12.2.6 is an online patch, so it can be applied while an existing Release 12.2 system is running.
More About Oracle EBS R12.2.6
So far we only discussed about HCM modules but there are many other enhancements and new functionalities added for other modules too. If you are keen on knowing those too, please go through following external links and I am sure you will get what are you looking for.
References
Its better to tell the truth that I took help of following external sites to collect these information and shared with you.