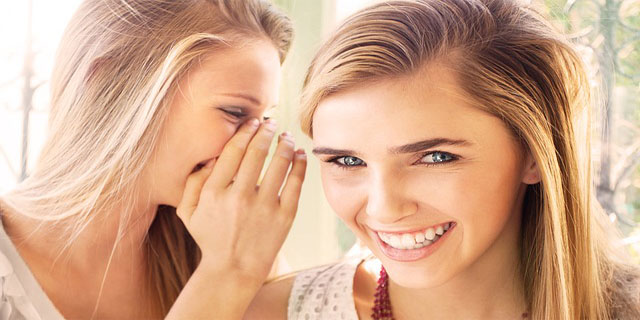 Fusion HCM File Based Loader (FBL): All you want to know
What is File Based Loader
Oracle Fusion File Based Loader allows you to load the data in bulk to Oracle Fusion HCM from other sources like your legacy system, Oracle Ebiz, PeopleSoft etc. As the name says loader it is only used to load the data to Fusion HCM. File Based Loader is capable of loading complex hierarchical data of large volumes including object history.
Note
: If you are looking for any kind of training on Fusion HCM, please
contact us
today. We are offering online training and also offline training in Hyderabad for discounted price.
Working example of File Based Loader
We will see how File Based Loader is used in real life with an example so that our concepts are clear. I will explain the terminology and give more details as we progress.
Example : Lets understand that our requirement is to move the data (Business Objects) from Oracle Ebiz to Fusion HCM and you have been assigned the task to move Grade information. There are other team members who are taking care of other Business Objects like Job, Location, Position etc. Hope the requirement is clear and you understand your task.
Now a question might come in your mind that can we move all Business Objects from Ebiz to Fusion using File Based Loader, so unfortunately the answer is NO. There are limited numbers of business objects for which we can use File Based Loader. As of today following are the objects for which we can File Based Loader. Some of the Business Objects are dependents on other.
Order
Business Objects
Dependency
 01
 Actions
 None
02
 Action Reasons
 Actions
03
 Location
 None
04
 Business Unit
 None

You must map each business unit to a default set immediately after load.

05
 Grade
 None
06
 Grade Rate
 Grade, Business Unit
07
 Job Family
 None
08
 Job
 Job Family, Grade
09
 Salary Basis
 Grade Rate
10
 Establishment
 None
11
 Rating Model
 None
12
 Talent Profile Content Item
 Rating Model
13
 Talent Profile Content Item Relationship
 Content Item, Establishment
14
 Person
 None

The person object includes employees, contingent workers, pending workers, and non workers

15
 Person Contacts
 PersonNote : Person documentation includes citizenship, passports, and visas only
16
 Person Documentation
 Person
17
 Department
 Location, Person, Business Unit
18
 Position
 Job, Department
19
 Work Relationship
 Person, Position

Work relationship includes contracts only for the 3-tier (Single Term Single Assignment) employment model.

20
 Salary
 Salary Basis
21
 Element Entry
 Work Relationship
22
 Tree
 None
23
 Tree Version
 Tree
24
 Department Tree Node
 Tree, Tree Version, Department
25
 Person Accrual Detail
 Person, Work Relationship
26
 Person Absence Entry
 Person
27
 Person Maternity Absence Entry
 Person
28
 Person Entitlement Detail
 Person, Work Relationship
Now after looking into this table you understand that you actually need not to wait for any of your team member as the business objects you are going to load (Grade) has no dependency. However, your colleague who is responsible to load Job you would like to inform that he cannot load unless Job Family and Grade are loaded.
Migrations Activities (Using File Based Loader)
Now since the Business Object you have to load doesn't depend on any other objects, you start exploring the activities you need to perform for a successful load. You come to know that below are the detailed steps you will need to perform to load Grade or any business objects.
Configure the Load Batch Data Process
Define Oracle Fusion Business Objects
Generate the Mapping File of Cross-Reference Information
Import Cross-Reference Information to the Source Environment
Map Source Data to the Reference Data
Extract the Source Data
Deliver Your Data to the Oracle WebCenter Content Server
Import Source Data to the Stage Tables
Load Data from the Stage Tables to the Application Tables
Fix Batch-Load Errors
Now as you aware about the steps lets login to application and follow the steps one by one
1. Configure the Load Batch Data Process
For this please navigate to Setup and Maintenance » search for task Manage HCM Configuration for coexistence » Click on Go to Task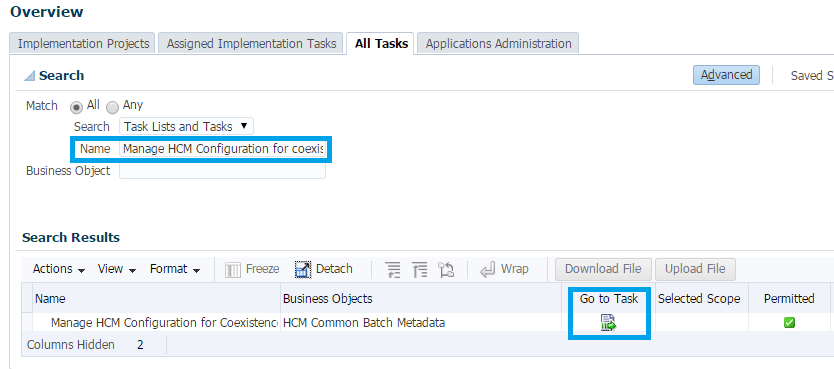 This will open Manage HCM Configuration for Coexistence window. Click on Detach (

) icon to have a larger view. A screen similar to below will appear.

This is also known as Load Batch Data Process, which helps to load the data from stage table to oracle Fusion application tables. We will make use of this at our later stage. Most of the parameter will have default values, which you will need not to change. You just need to make sure that value for Loader Number of Processes is between 1 to 8 and there is a password entered for filed ODI Password
NOTE : You need to perform this activity only once for any instance. So if values are present you need not to any thing.
Once you verify or update the data click on Detach (

) icon again to return back Manage HCM Configuration for Coexistence. If you changed any value click on "Submit" tab else no action is required.
2. Define Oracle Fusion Business Objects
In most of the cases this would already be done and you need not to perform any activity. But this is what oracle says with puzzling words.
The Business Objects we are loading from Source to Fusion HCM should be as part of the Business objects that originate in your source system may reference other business objects that originate in Oracle Fusion HCM. For these referenced business objects, you must generate cross-reference information and include it in your source system.
The following table shows the Oracle Fusion business objects for which you may need cross-reference information, and the Oracle Fusion task that you perform to define each business object. If you want to reference any of these business objects, you must perform the relevant Oracle Fusion task before generating the mapping file for the cross-reference information.
3. Generate the Mapping File of Cross-Reference Information
The next step would be to generate cross-reference information for fusion business objects. This cross reference information will have Globally Unique Identifiers (GUIDs) for each of these Fusion Business Objects, which we need to use in our further steps.
To Generate the cross reference information. Go back to step1 where we were on page Manage HCM Configuration for coexistence. and click on Submit button (available in the region Generate Mapping File for HCM Business Objects), which will submit a process. Note down the process id. and again click on "Search". You will notice a .zip file against the process id.

Status of your process must be 12, which means SUCCEEDED. Even after clicking on Search tab multiple times you status shows other than 12 please see the table below to know the exact meaning of process Status.
| | | |
| --- | --- | --- |
|  Status Number | Status Name | Status Description |
|  1 |  WAIT |  The job request is awaiting dispatch |
|  2 |  READY |  The job request has been dispatched and is awaiting processing |
|  3 |  RUNNING |  The job request is being processed. |
|  4 |  COMPLETED |  The job request has completed and postprocessing has started |
|  7 |  CANCELLING |  The job request has been canceled and is awaiting acknowledgement |
|  9 |  CANCELLED |  The job request was cancelled |
|  10 |  ERROR |  The job request has run and resulted in an error |
|  11 |  WARNING |  The job request has run and resulted in a warning |
|  12 |  SUCCEEDED |  The job request has run and completed successfully. |
|  13 |  PAUSED |  The job request has paused for sub-request completion |
|  17 |  FINISHED |  The job request and all child job requests have finished |
Note :
For processes that complete with errors (status 10), search for the process ID in the Scheduled Processes work area (Navigator – Tools – Scheduled Processes) and view the associated log file
Whenever you make changes to any of the Oracle Fusion business objects, you must regenerate the mapping file. For example, if you define additional person types, then you must regenerate the GUIDs for the Oracle Fusion instance
The GUIDs associated with an Oracle Fusion instance don't change. However, GUIDs vary among instances. Therefore, the GUIDs that you generate from the stage environment are different from those that you generate from the production environment. You must generate them in both environments.
As an alternative to running the Generate Mapping File for HCM Business Objects process, you can use the HCM extract described in the document Business Object Key Map Extract for File-Based Loader (My Oracle Support article ID 1595283.1)
4. Download Mapping File
From the previous steps you have create a .ZIP file now it is time to download the same. By now we know that the zip file will contain cross reference information for each business objects. The Generate Mapping File for HCM Business Objects process creates one or more data files (.dat files) for each business object. The application packs .dat files automatically in a zipped data file that's written to the Oracle WebCenter Content server.
To download the file navigate to Navigator » Tools » File Import and Export » Set the Account value in the Search section to hcm/dataloader/export and click Search
You will see your .ZIP file that you saw in previous steps but this time you can click on the zipped file name. Click on the file name and it will down load the file onto your system.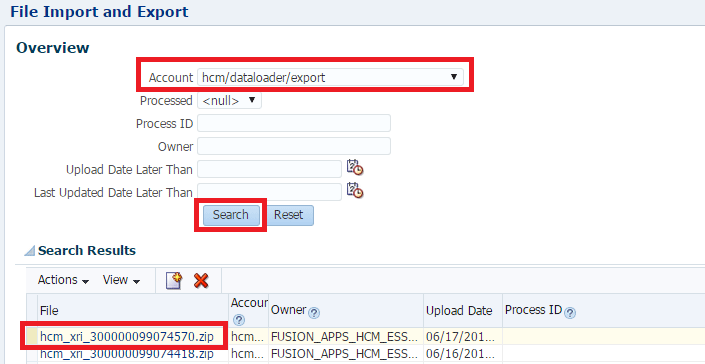 If you unzip the downloaded file you will see total 21 .dat (data) files.  These .dat files belong to different Business Objects as described below in the table.
Business Object
Data File Name
Employment Action Reason

XR_ACTION.dat
XR_ACTION_REASON.dat
XR_ACTION_REASON_USAGE.dat
XR_ACTION_TYPE.dat

Person Assignment Status Type

XR_ASSIGNMENT_STATUS_TYPE.dat

Enterprise
Talent Profile Content Item

XR_HRT_CONTENT_ITEM_LANGUAGE.dat

Talent Profile Content Type

XR_HRT_CONTENT_TYPE.dat
XR_HRT_CONTENT_TYPE_RELAT.dat

Talent Profile Type
Talent Instance Qualifier Set

XR_HRT_QUALIFIER.dat
XR_HRT_QUALIFIER_SET.dat
XR_HRT_RELATION_CONFIG.dat

Legal Entity
Legislative Data Group

XR_LEGISLATIVE_DATA_GROUP.dat

Payroll Element Type

XR_PAY_ELEMENT_TYPE_STD.dat
XR_PAY_ELEMENT_TYPE_SUPPL.dat

Payroll Element Input Value

XR_PAY_INPUT_VALUE_STD.dat
XR_PAY_INPUT_VALUE_SUPPL.dat

Person Type
Application Reference Data Set
You can explore these files using notepad to see how GUIDs look like. GUIDs are unique 32-character alphanumeric identifier used by both Oracle Fusion HCM and source applications such as Oracle PeopleSoft and Oracle EBS. Screenshots below shows the XR_ASSIGNMENT_STATUS_TYPE.dat file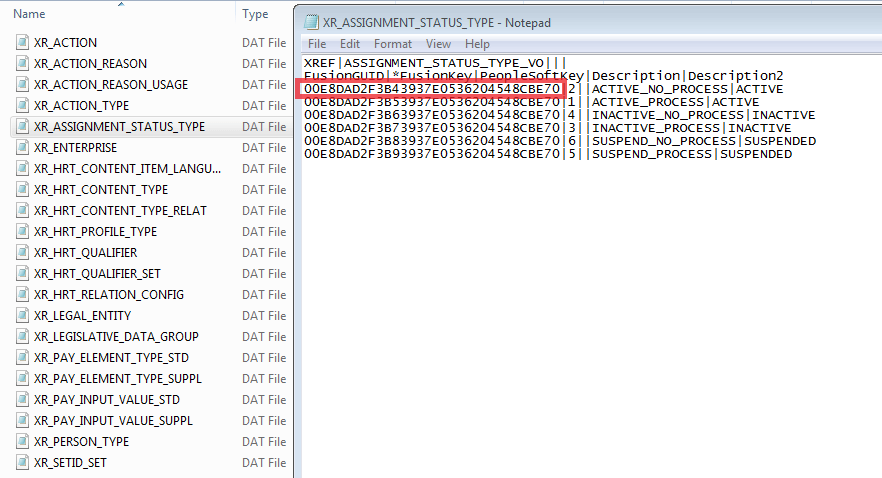 5. Map Source Data to the Reference Data
Now it is time to do some interesting and challenging work. To understand this better lets ask a question to yourself how fusion application will know the data your are going to supply to load will be mapped against which column of any table. To make our life easy oracle has given File-Based Loader Column Mapping Spreadsheet, which tells what are the data we can supply against any Business Objects .
So in our case if we check the Business Objects for Grade we will find the data we can supply under header given in the column "Datastore Attribute Name". You can also check the comment column to see important information.  If you see the highlighted column it tells that we must reference the GUID from XR_SETID_SET.dat which we generated from step  Download Mapping File. If you go back and open the  XR_SETID_SET.dat you will see different GUIDs for each sets available in your Fusion application. Now you can select the GUIds of the sets you want to link your Grade. Please note a grade must be linked with your Business Units set or Common set.
You must be wondering how to get the mapping for other object such as Job and Business Units. So to get the latest File-Based Loader Column Mapping Spreadsheet please search for the oracle note Oracle Fusion Human Capital Management File-Based Loader (Doc ID 1595283.1) and download the mapping spreadsheet.
Note:
Heading rows must be in capital letters and spelled correctly.
Data lines follow this heading row, with data items also being separated by the pipe character.
Columns can appear in any order.
So based on the above information our file to upload Grade information should look like below. For example I have added below two grades and both are linked with common set
Avi Demo Grade1
Avi Demo Grade2
6. Extract the Source Data
This step is more about structuring about data that are ready to load. As we followed the naming convention while working on mapping source data to reference data, similar all business objects that we are going to load should be placed inside the structured folder and .dat files should also be placed inside their parent folder as given below
Order
Object Directory Name
Data-File Name
 01
Action

F_ACTIONS_VO.dat
F_ACTION_REASON_USAGES_VO.dat

02
ActionReason
03
BusinessUnit
04
ContentItem

F_CONTENT_ITEM_RATING_DESCRIPTION_VO.dat
F_CONTENT_ITEM_VO.dat

05
ContentItemRelationship

F_CONTENT_ITEM_RELATIONSHIP_VO.dat

06
Department

F_DEPARTMENT_DETAIL_VO.dat
F_DEPARTMENT_VO.dat

07
DepartmentTreeNode
08
ElementEntry

F_ELEMENT_ENTRY_VALUE_VO.dat
F_ELEMENT_ENTRY_VO.dat

09
Establishment
10
Grade
11
GradeRate

F_GRADE_RATE_VALUE_VO.dat
F_GRADE_RATE_VO.dat

12
Job

F_JOB_GRADE_VO.datF_JOB_VO.dat

13
JobFamily
14
Location
15
Person

F_PERSON_ADDRESS_VO.dat
F_PERSON_EMAIL_VO.dat
F_PERSON_ETHNICITY_VO.dat
F_PERSON_LEGISLATIVE_DATA_VO.dat
F_PERSON_NAME_VO.dat
F_PERSON_NATIONAL_IDENTIFIER_VO.dat
F_PERSON_PHONE_VO.dat
F_PERSON_RELIGION_VO.dat
F_PERSON_TYPE_USAGE_VO.dat
F_PERSON_VO.dat

16
PersonAbsenceEntry

F_PERSON_ABSENCE_ENTRY_VO.dat

17
PersonAccrualDetail

F_PERSON_ACCRUAL_DTL_VO.dat

18
PersonContact
19
PersonDocumentation

F_PERSON_CITIZENSHIP_VO.dat
F_PERSON_DOCUMENTATION_VO.dat
F_PERSON_VISA_VO.datF_PERSON_PASSPORT_VO.dat

20
PersonEntitlementDetail

F_PERSON_PLAN_ENTRY_DTL_VO.dat

21
PersonMaternityAbsenceEntry

F_PERSON_MAT_ABS_ENTRY_VO.dat

22
Position

F_POSITION_GRADE_VO.datF_POSITION_VO.dat

23
Profile

F_PROFILE_ITEM_VO.dat
F_PROFILE_RELATION_VO.dat
F_PROFILE_VO.dat

24
RatingModel

F_RATING_LEVEL_VO.datF_RATING_MODEL_VO.dat

25
Salary

F_SALARY_COMPONENT_VO.dat
F_SALARY_VO.dat

26
SalaryBasis
27
Tree
28
TreeVersion
28
WorkRelationship

F_ASSIGNMENT_SUPERVISOR_VO.dat
F_ASSIGNMENT_VO.dat
F_ASSIGNMENT_WORK_MEASURE_VO.dat
F_WORK_RELATIONSHIP_VO.dat
F_WORK_TERMS_VO.dat
F_CONTRACT_VO.dat
From the above table its pretty clear that to load Grade we must have a folder "Grade" and inside that there should be only one .dat file with name "F_GRADE_VO.dat". However, system doesn't stop you to combine all business objects together and place their .dat files inside respective parent folder. You can upload all business objects together to content server and upload in the stage table only file moving the business objects to fusion application you will need to follow the sequence we discussed earlier
Note:
No parent folder exists in the zip file.
The application processes each business object in the zip file as a separate batch. For example, if the zip file contains both Department and Job business objects, then the application processes the zip-file contents as two separate batches, one for Departments and one for Jobs.
7. Deliver Your Data to the Oracle WebCenter Content Server
Now its time to work on application again. Lets assume that now we have a .dat file F_GRADE_VO.dat, which is placed inside folder "Grade" and file is zipped with name LoadGrade.zip
Now to upload the .zip file (data) to Oracle WebCenter Content Sever follow the navigation Navigator » Tools » File Import and Export » Click on Update Icon and select your .zip file (LoadGrade.zip). Please make sure the value for Account is hcm/dataloader/import. Click on Save and Close.

Once you click on Save and Close please make a note of Content ID. If you are not able to see the content id click on View, columns and select Content ID.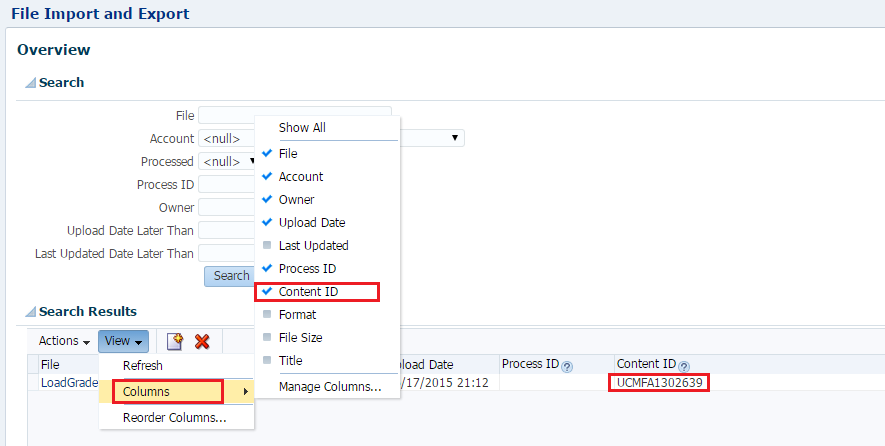 8. Import Source Data to the Stage Tables
So far our uploaded zip file is only in the content server we need to move this to stag table. For the same please navigate to Navigator » Workforce Management » Data Exchange » and follow below activities
Select "Load Data for Coexistence" under Under task "Coexistence for HCM" » and follow below activities
Click on Import
Enter Contend ID that you got from previous step
Select business Object as Grade (if you are uploading more business objects you have option to select all)
Give the batch a name to identify it later. Object names are prefixed with the batch name to provide a unique batch name for each batch
Loader Run Type select as Import
Click Submit

Note:
If you set the Loader Run Type parameter to Import, then data is imported to the stage tables. You can review the results of this process and correct any import errors before proceeding with the load to the application tables. When you first start to use File-Based Loader, this is the recommended approach.
If you set the Loader Run Type parameter to Import and Load Batch Data, then data is imported to the stage tables. All objects imported successfully to the stage tables are then loaded automatically to the application tables. You may prefer this approach when import errors are few and your data-loading is routine.
Track the progress
Once you click on submit track the program. Enter your content Id in filed File and click on search. Press the refresh icon until you see process status Succeeded. At the bottom you can also see the total object, pending objects etc.
Note: If you encounter any issue/error click on the log file any analysis the issue.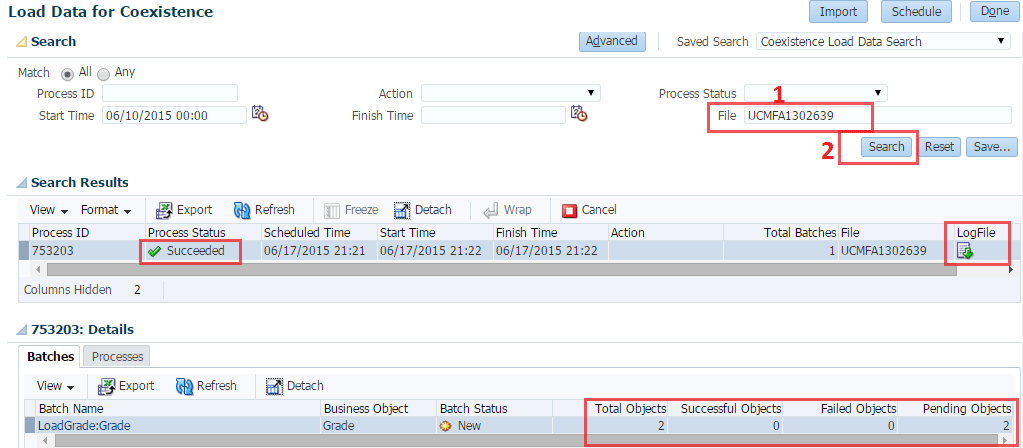 9. Load Data from the Stage Tables to the Application Tables
Now our data are loaded to stag table. Its time to move them to application table. For this click on the Batch Name link (for example : LoadGrade:Grade) or search based on the batch name that you gave earlier. You should see screen similar to below. Now select the batch name line and Click on Run icon
Note : If you have uploaded more than one business objects you need to perform this activity one by one for all object in the same sequence we discussed initially.

Once you click on Run you will see below screen. Before you click on Submit just make sure Batch Name is correct.

As soon as you click on Submit you will get confirmation and the process id. Click Ok and come back to previous screen where you can track the progress. Please click on refresh couple of time until you see the batch status Complete. Make sure all objects are loaded successfully, you can check this at the bottom.

10. Fix Batch-Load Errors
If you encounter any error on the previous step, click on the failed tab and analysis the data. You have the flexibility to correct data here itself and mark them for reprocess so that you do not need to start the whole process again.
Verify the loaded data through File Based Loader
Lets assume our data was loaded successfully to application tables. Now its time to verify them. Sine in this example we only uploaded Grades. the navigation we need to follow is Navigator » Setup and Maintenance » search for task "Manage Grades" and click on Go to task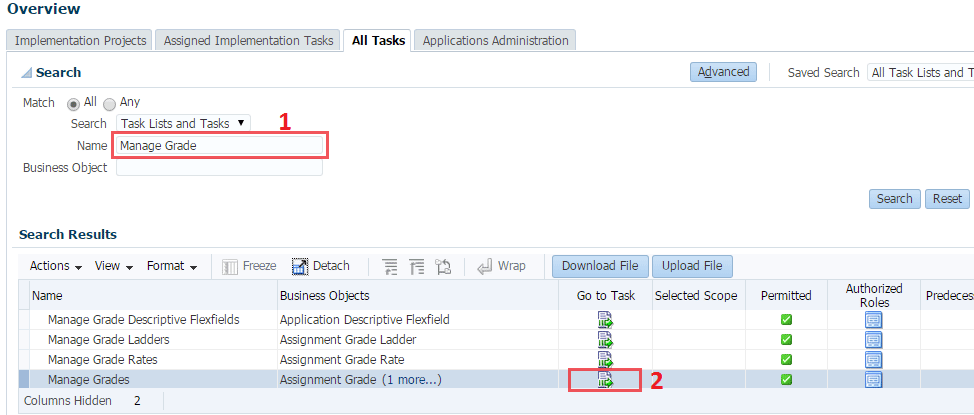 Now search for the name Avi and you will see two grades available there, which we loaded through File Based Loader 🙂

Additional Resources for File Based Loader
Please check below oracle notes if they are of any help