Document of Record
In oracle fusion we can create document of record to give your employee flexibility to upload electronic/soft copy of the documents. For example visa, passport, medical result, degree, certificates.. Similarly document of record also gives option to employer to share documents with employee like monthly payslip, tax year end files, annual compensation letter etc. Documents of records give rich flexibility to configure approval, override preference and setup notification when a document validity is going to expire. To have different classification of the documents stored by employee  oracle gives flexibility to create categories and subcategories.
In the steps below we will learn how documents of records can be configured in fusion including Category and sub category.
[box type="success" align="" class="" width=""]
Note
: If you are looking for any kind of training on Fusion HCM, please
contact us
today. We are offering online training and also offline training in Hyderabad for discounted price.[/box]
Business Requirement to setup Document of Record
Before we start configuring document of record lets have a hypothetical business requirement. The requirement is to create document of records for "Reimbursements", where employees can upload all expense receipts. Employees would be able to upload Visa and Travel related expense.
To do the configuration for above requirement we will need to do following setups
Create a category : Reimbursements
Create two sub categories : Visa and Travel
Create a document types : Reimbursements
Setup steps
for Document of Records
Based on the above requirement below are the setup steps
1. Create a category
To create a category login to your application and navigate to Setup and Maintenance work area  » Your Implementation Project » Workforce Deployment » Define Common HCM Configuration » Define Workforce Records » Define Documents » Manage Document Lookups » Click On Go to Task or search for the task "Manage Document Lookups"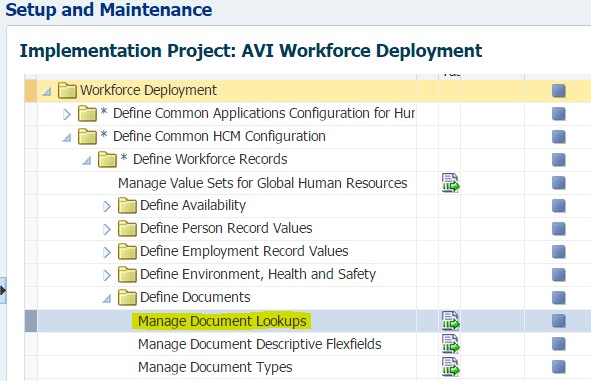 Now a new window will open, click on DOCUMENT_CATEGORY and it will bring another screen as shown below. Click on new icon 

 and enter the document category details like Code, Start Date, Meaning etc. Once you enter all details click on Save and Close.

2. Create Document Subcategories
Now as per the requirements we will create two subcategories. For the same just search for the task "Manage Extended Lookup Codes" and click on the Go to Task.

Now in the next window first select the "Document Category" from Lookup type section and then click on add icon

 in the Document Category: Manage Extended Lookup Codes section. Now add one by one all your subcategories (Visa and Travel in our case) and click on save.

3. Create Document Types
By now we have created document category and sub categories. It is time now to create document types.
To create a document types once again navigate to  Your Implementation Project » Workforce Deployment » Define Common HCM Configuration » Define Workforce Records » Define Documents » Manage Document Types » Click On Go to Task. A Manage Document Types window will appear as shown below, click on Create icon.

Once you click on create a new window will appear where you give information about your document types. Type would be your actual document types. Expiration Notification Period  you enter the number of days before system will send notification to owner is document is going to expire. For this you must enter the document "To Date". Similarly you select category and sub category. Approval Required yes/no based on the requirements. when you are creating Document Types "Enable Document Delivery Preferences" will be disabled but once it is approved you can come back and change it. Once you enter all required information including "Attributes" click on Submit.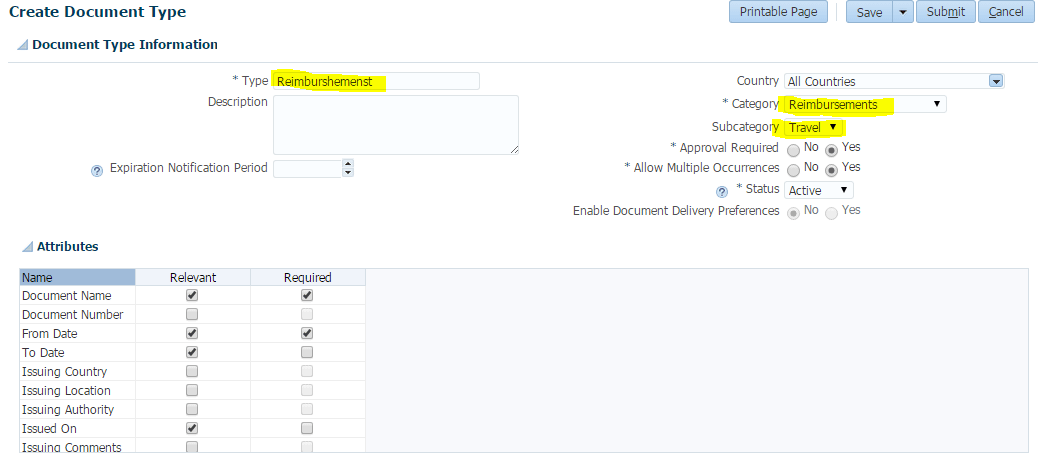 Once your document types is created you can search for the newly created document and update the Document Delivery Preferences. Currently only two delivery methods "Online" and "Paper" are available. Yo can play around this to setup different delivery method for different legal employer, locations etc.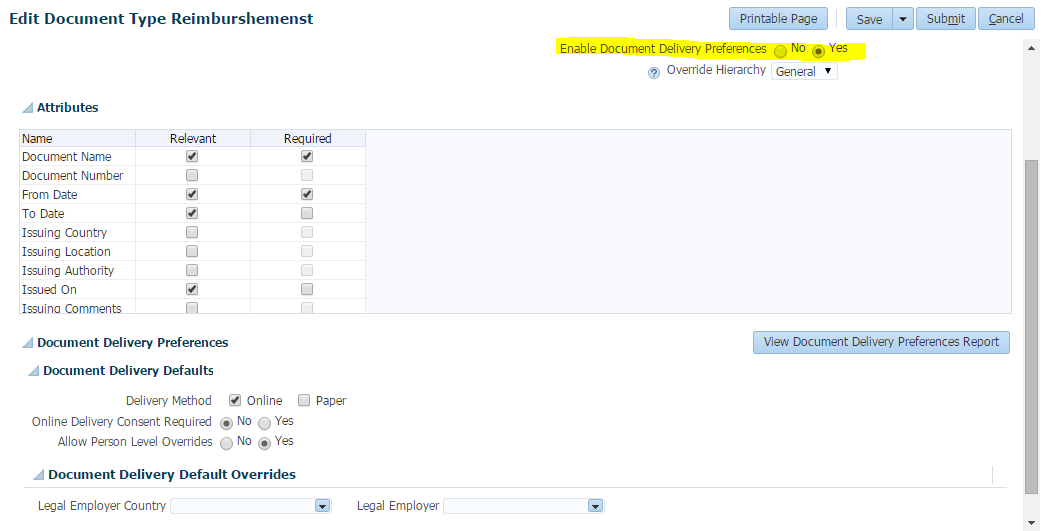 How to use 
Documents of Record
Now we have successfully configured document of record, it is time to use it. An employee can upload document type by navigating to My Protrait » Select Card "Personal Information" » Click on icon "Create" under Document Of record and enter details.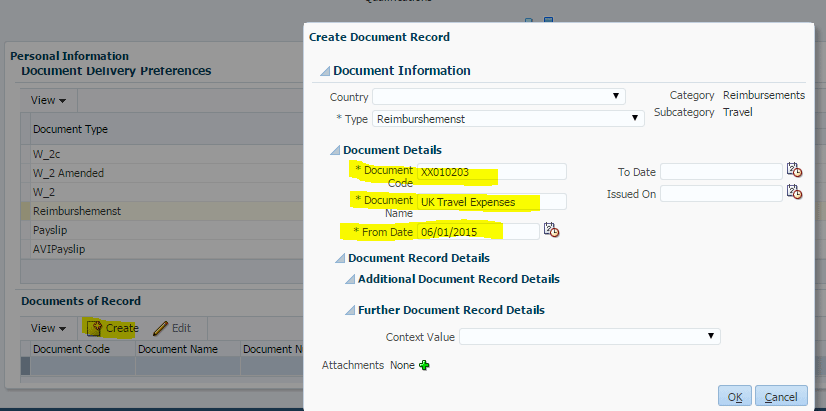 Did you know?
There is an Oracle note id All White Papers for Fusion Applications HCM (Doc ID 1504483.1) where you will get all white papers at one place.