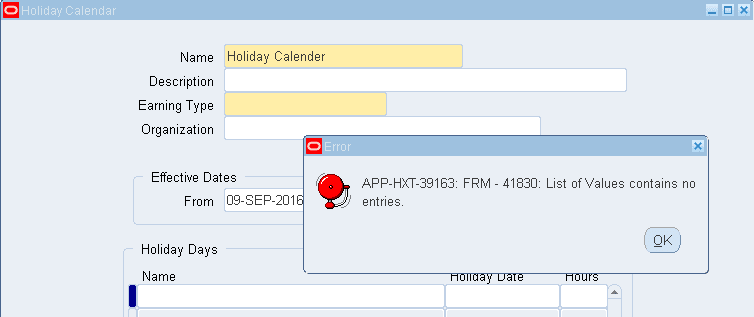 Common Issues
Earning Type not available while creating holiday calendar in OTL
Holiday Calendar Issue

Navigation : OTL Application Developer » OTL Time Accounting » Time Setup and Maintenance » Holiday Calendar
If while creating holiday calendar you are getting error "Holiday Calendar – APP-HXT-39163: FRM – 41830 : List of Values contains no entries.", you need not to worry any more. There is a fix for that.
Why is this issue?
When you create a holiday calendar it needs to be linked with a Earning Type, which is nothing but an element with special Earning Category cl "Absence Earning". You need to create an element that can hold this holidays entries. You can either create a new element or use your existing element and select Earning Category for that.
Solution
Navigation : OTL Application Developer » OTL Time Accounting » Policies » Element Time Information
Navigate to "Element Type Information" window and select the element that you want to tag with "Earning Type".
Now under the "Additional Element Information" section select the "Absence Earning" against "Earning Category". This is shown below in the picture.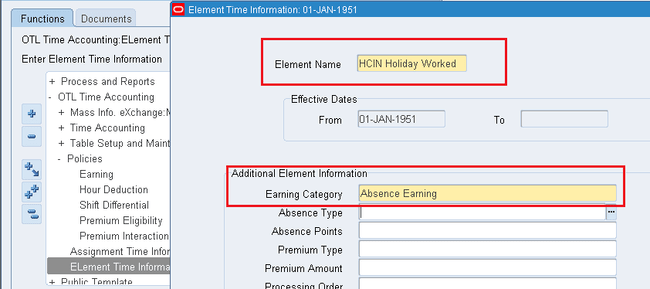 Once you make entries as explained above and save the record you would be able to create holiday calendar successfully.
Hope this would have helped you to solve your problem "APP-HXT-39163: FRM – 41830 : List of Values contains no entries."